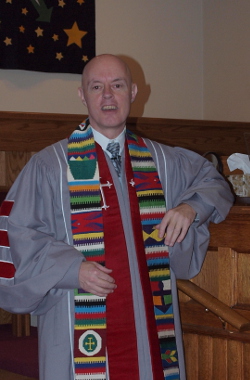 Richard (Rick) Hughes
The Rev. Dr. Richard A. Hughes began his ministry here at Union Congregational Church on March 1, 1992. A native of Whitman, Massachusetts, he served two churches in Maine before accepting the call to come to North Reading. His first call was to serve as the associate pastor at the First Congregational Church in South Portland, Maine before serving for a year as the interim minister at the First Congregational Church in Grey, Maine.
Rev. Rick attended Andover-Newton Theological School where he earned his Master of Divinity degree as well as a Doctor of Ministry degree in pastoral counseling. Despite his theological education he believes very strongly in a hands on ministry which can mean anything from sleeping on the floor for a sleep over at the church with our high school youth or spending an afternoon in the kitchen making his famous lobster bisque for our Lenten Luncheons. He also has a passion for music and enjoys singing with the choir and playing the bells with our North Parish Ringers.
During his free time Rev. Rick enjoys playing the piano and he is a self proclaimed cruise-a-holic. His cruises have taken him to over 50 countries around the world; all the way from the Arctic to Antarctica, from China to Easter Island and Tahiti. Rev. Rick will also tell you that he is an unapologetic chocoholic and that there isn't a problem in the world that chocolate can't solve.
It is when he is ministering to and with God's people though that his "heart truly sings." And what is the secret to being a good minister? After 34 years of ordained ministry he will tell you that the answer to that question is simple. "I always ask our student ministers what the most important thing is to being a really good minister. They usually say things like visiting people when they're sick and giving a good sermon to which I will always reply, 'Yes, that's important but that's not the most important thing when it comes to being a really good minister.' Eventually, they'll give up and ask me what the answer is to the question. At that point I offer them an answer and then ask them another question. The answer to the question is simple. The most important thing when it comes to being a really good minister is to make sure that your congregation loves you…and you know what the best way is to make sure your congregation loves you? You make sure they know that you love them!"
E-mail Rick